What is an actuator?
The actuator is a hardware device. It transforms digital information into physical action. These can be alarms or switches, for example.
What is the difference with a sensor?
In a connected object or in a device for connecting existing objects, such as tags, there can be several sensors. The mOOnTAGs of the range EDITAG Industries for example, can detect movements, shocks, vibrations, variations in temperature, relative humidity ...
They transform the physical measurement into digital information.
In reality, sensor and actuator are complementary!

In some cases, it is the actuator who will ask the tag to capture the information, in others, it is the captured information that will trigger an action.In industry, many scenarios are possible. We will retain 2 examples here:
Automatic location / replenishment order
Take the example of a work in progress cart.
In this industrial process, the replenishment orders are placed when the work in progress, therefore the cart, reaches the penultimate stage of production.
Until now, an operator had to check the presence of the (correct) truck at this stage and enter the order in the information system.
Thanks to mOOnTAG, all of this becomes automatic.
The trolley is equipped with a mOOnTAG. When passing through the area of the penultimate stage, the mOOnTAG and therefore the trolley are detected, this automatically triggers the replenishment request in the system!
Location detection activates the control.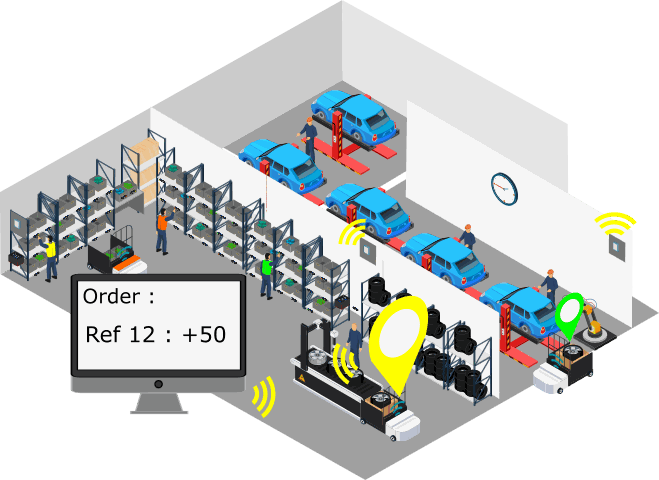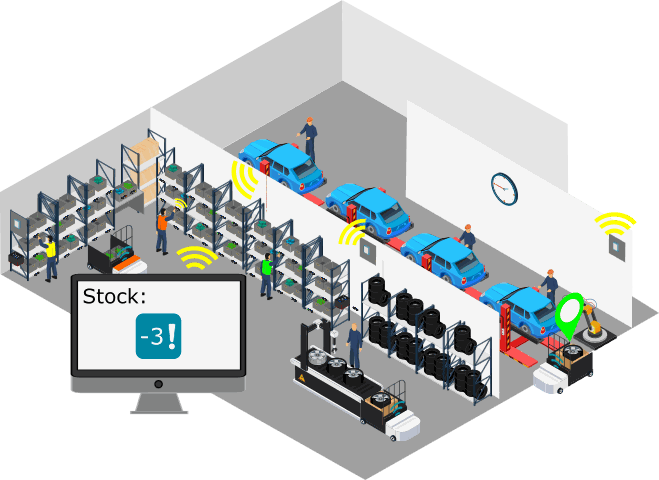 Help with order preparation / stock update in real time.
Our range of sensors Pick-To-Light is composed in particular of contactless sensor, called proximity.
They detect the passage of a hand and trigger an action in stride!
Here, the operator is guided by the mOOnTAG to know in which tank he must take his component. To grab the part, it passes under the proximity sensor of the mOOnTAG.
The tag therefore detects its hand, and taking into account the corresponding production order triggers the update of the stock in the information system, automatically.

For more information on our IoT sensors: